Mining Element will provide SMOPYC's attendees with the fastest delivery times in the region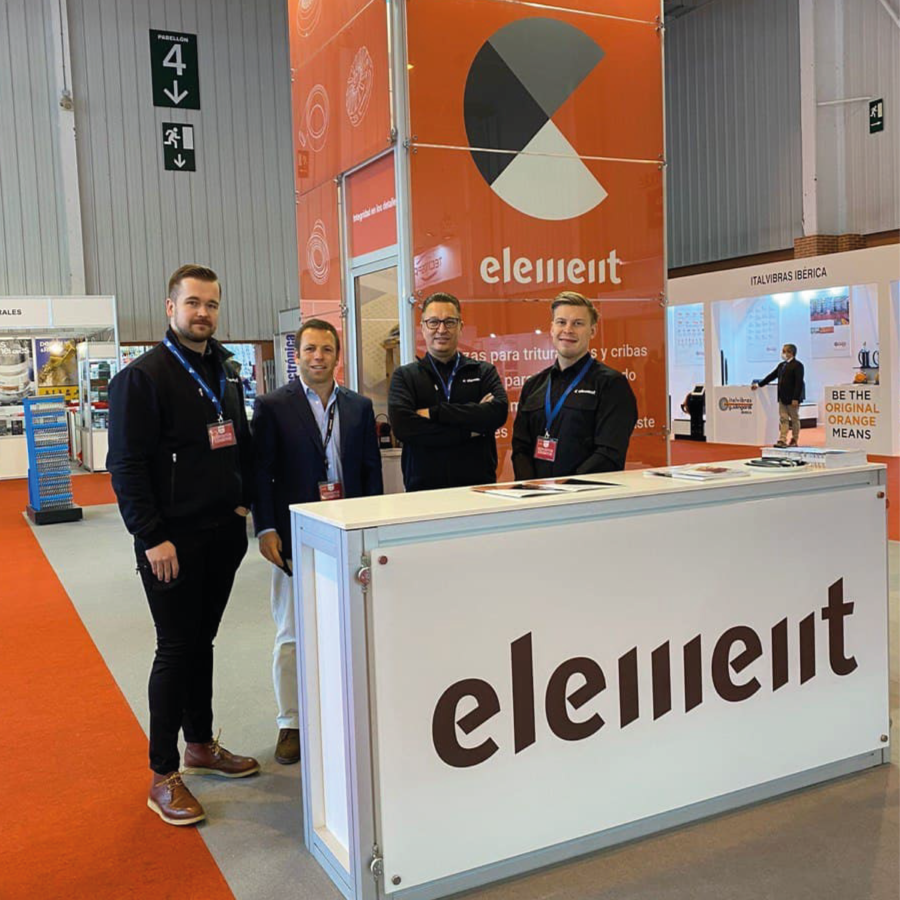 Mining Element and Produtiva, its official dealer on the Iberian Peninsula, presented in-demand parts for pumps and crushers as well as wear-resistant plates for bulk containers at SMOPYC 2021. The trade fair witnessed over 50,000 visitors, and those who reached the company's stand are now able to cover their needs for fast deliveries and durable parts with Element.
Business development manager Francisco Bravo presented Mining Element at the joint stand Produtiva, one of the largest industry exhibitions in Southern Europe, which took place in Zaragoza, Spain. He noted that now is a critical moment for the local market. He explained that there is a lot of turbulence that has been caused by market changes and logistical problems.
According to Bravo, one of the market's main demands is fast delivery – that is what Mining Element is able to provide on the Iberian Peninsula due to its warehouse located in the region. It means that regular customers who have contracts with Mining Element can receive parts within 2 days. In addition, visitors have been interested in Mining Element's brand as they can cut costs when replacing OEM parts without compromising on quality.
"That is why we left with the impression that our solutions are coming with great timing. Given the situation, we didn't expect big crowds like in previous years, but ultimately there were over 50,000 visitors. As a new supplier on the local market, we wanted to use the event to introduce ourselves. This decision proved to be the right one as there were a lot of people from the industry visiting our stand and seeking to know more about Mining Element".
At the expo, crusher parts were the main attraction as attendees wanted to see the whole range of equipment that Mining Element can cover in addition to its technical capabilities. There were also a lot of requests regarding pump parts and wear-resistant materials which turned out to be quite popular products.
Mining Element CEO, Marko Salmela, outlined that the event is highly important for Mining Element and th whole region.
"We saw that customers are becoming familiar with Mining Element and noted a good turnout of customers from the aggregates and mining industries. An important part was sharing a booth with Produtiva, as they have 111 years of history in the region. They knew all the customers within the aggregates industry and brought all decision-makers to Mining Element for introduction and negotiations", he said.
Mining Element and Produtiva teams established new customer relationships, got orders from customers and made partnership agreements to extend the presence into the mining industries of Spain and Portugal. And now it's time to implement new projects.
We use cookies to enhance your browsing experience, analyze site traffic and serve tailored advertisements. By continuing to browse or closing this banner, you consent to our use of cookies. Read more about how we use cookies.Cookie Policy