Mining Element in 5 years: infographics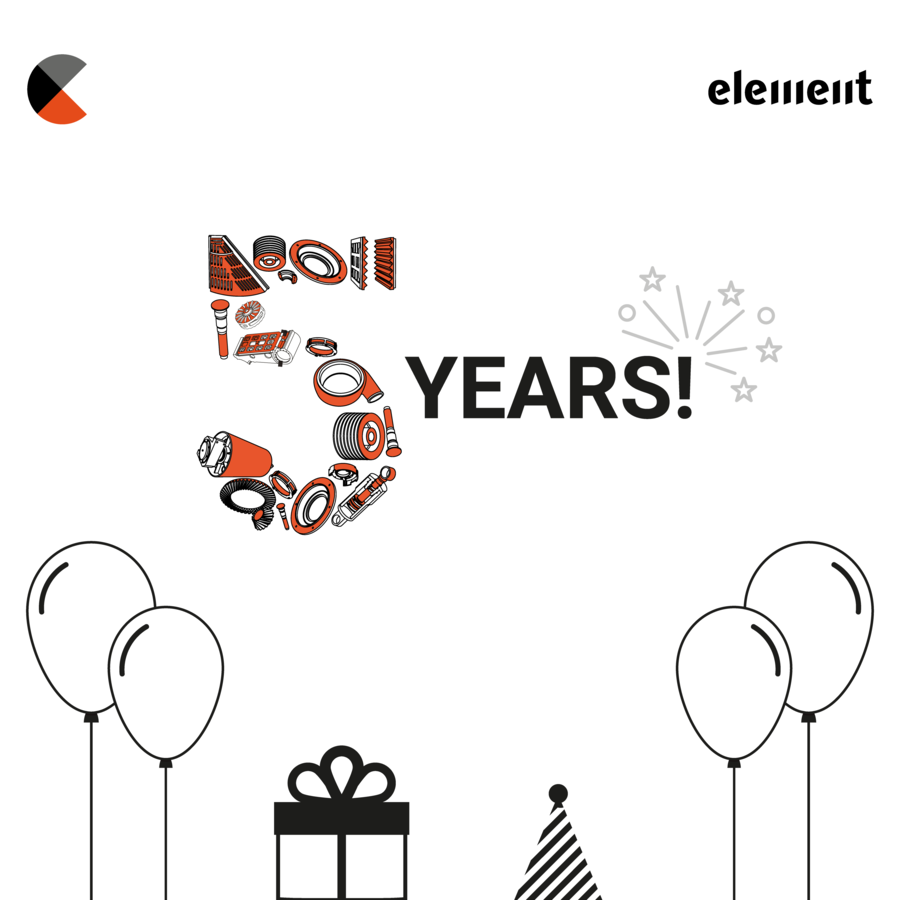 Mining Element celebrates its fifth anniversary on October 26, 2021. During this time, the territory of supply for spare and wear parts reached 56 countries, and the team grew from three people to 162, spanning seven countries. Despite the instability of the global economy, the company continues to expand its product line and increase its output.
Mining Element has been producing, supplying and servicing spare and wear parts under its own trademark since 2016. The company was founded by Marat Abdurakhimov, Mining Element's current vice president.
Five years ago, we were working from a cramped office in St. Petersburg with only three employees. Since then, we've developed an international company claiming leadership in the markets of Eurasia, Africa, South and North America. Such rapid and steady growth, despite the prolonged COVID crisis, is possible thanks to a clear adherence to the set-out strategy and our comprehensive development in all key areas.
The founder and vice president of Mining Element, Marat Abdurakhimov, summarized the steps that the company took during its first five years on the market.
"We started by creating electronic reference books for the entire nomenclature of equipment with classification by business line. Each article is tied to the details and models of certain equipment.
In order not to depend on the supplier, we've developed technical documentation for all products. We hired designers and mastered scanning. We even have our own drawing for each part.
In addition, from the very beginning, we have been seriously engaged in market analysis and our results. This helped us to become a manufacturer of high-quality alternative parts, whose brand is already known in the markets of dozens of countries," Abdurakhimov shared.
Customer trust
Over five years, the number of Mining Element's customers has reached 400. These are customers with whom Mining Element works directly and customers who function as partners and dealers. Mining Element cooperates with over 50 distributors and is constantly expanding its partner network. Of more than 2.5 thousand orders from 12 countries, 83% are repeat orders.
"For us, the return of customers is a sign of the results of constant work on product quality, delivery times and technical support. We see that they trust us and return to us after the first deliveries," Abdurakhimov said.
In addition to the supply of parts for mining equipment, our team of engineers has implemented more than 40 projects regarding the modernization of parts, modifying them to meet the specific operating conditions of the customer.

Part availability
During the years of the COVID-19 crisis with its accompanying global logistics problems, Mining Element has been taking all measures possible to ensure the availability of spare and wear parts for mining equipment.
Firstly, the company is continuing to diversify production. At the moment, Mining Element is working with 300 carefully selected manufacturers. They are located in China, Belarus, Russia, India, Turkey, South Africa, Slovenia, Finland and Ireland.
Secondly, Mining Element is continuing to open new warehouses while expanding its current ones. In 2021, the company opened a warehouse in Portugal, and also expanded warehouses in Finland and Russia. These warehouses are replenished at a frequency in line with consumption plans and market analysis. For regular customers with contracts, this means that the part will arrive at the production site from one to seven days after the order.
Geography of supply
In 2021, Mining Element opened regional offices in Sweden, Romania and Portugal. Thanks to the representatives of Mining Element and its partner network, at the moment, the company accepts orders from 56 countries in Europe, Central Asia, the Caucasus, the CIS, Africa, the Americas and even Australia.
According to Mining Element's president, Marko Salmela, despite the strong influence of COVID-19, our teams in Eurasia and other continents continue to increase the base of international clients.
"In the coming years, our priority is to increase operational activities in the countries of presence to be as close as possible to our customers. The more successful we become, the more partners and dealers we can involve in our work and the more local our hiring regimes can become. This means that our warehouse program and the list of parts available for fast delivery will be systematically growing in each region," Element's head noted.
The Element University
In 2021, Mining Element launched the University project for employees, partners and dealers. This is an internal platform on which courses and materials useful for understanding the company's products are regularly posted. Since the creation of the University, 29 courses have been posted on the platform. Depending on the cooperation model and the country of origin, access to certain training materials is configured for each user.
The Mining Element team would like to express gratitude to its dealers, partners and customers for their trust. Close cooperation and feedback allow the company to determine priorities and work more profitably, more conveniently and better for all interested parties. Let's start year number five with a bang, together!
We use cookies to enhance your browsing experience, analyze site traffic and serve tailored advertisements. By continuing to browse or closing this banner, you consent to our use of cookies. Read more about how we use cookies.Cookie Policy